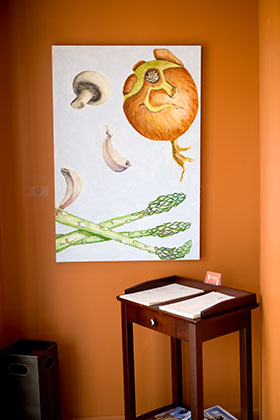 Local artists are featured throughout Portobello Ristorante and add to the romantic and cozy atmosphere.
Featured Artist - Jeanne Krabbendam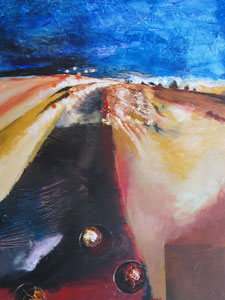 Adding to the romantic and cozy atmosphere of Portobello Ristorante is the beautiful art of local featured artists. Currently, the walls are adorned with works from renowned mixed media painter Jeanne Krabbendam.
Stylistically all her works hover somewhere between representational and abstract. Many of the compositions are built up through the use of overlapping fragmented painted motifs, torn handmade paper, copies of documents, handwritten words and altered photographs. With a strong sense of colour Jeanne creates paintings, tactile compositions, that are peaceful yet full of movement, subtle yet powerful.
For more information about Jeanne Krabbendam, visit her website at http://www.jeannekrabbendam.com